Our employees are extraordinary! Thanks to their gifts and additional community support, the Foundation has been able to give thousands of dollars to our support patients, facilities, and co-workers.
In 2022, over 650 employees gave over $150,000 through payroll deduction!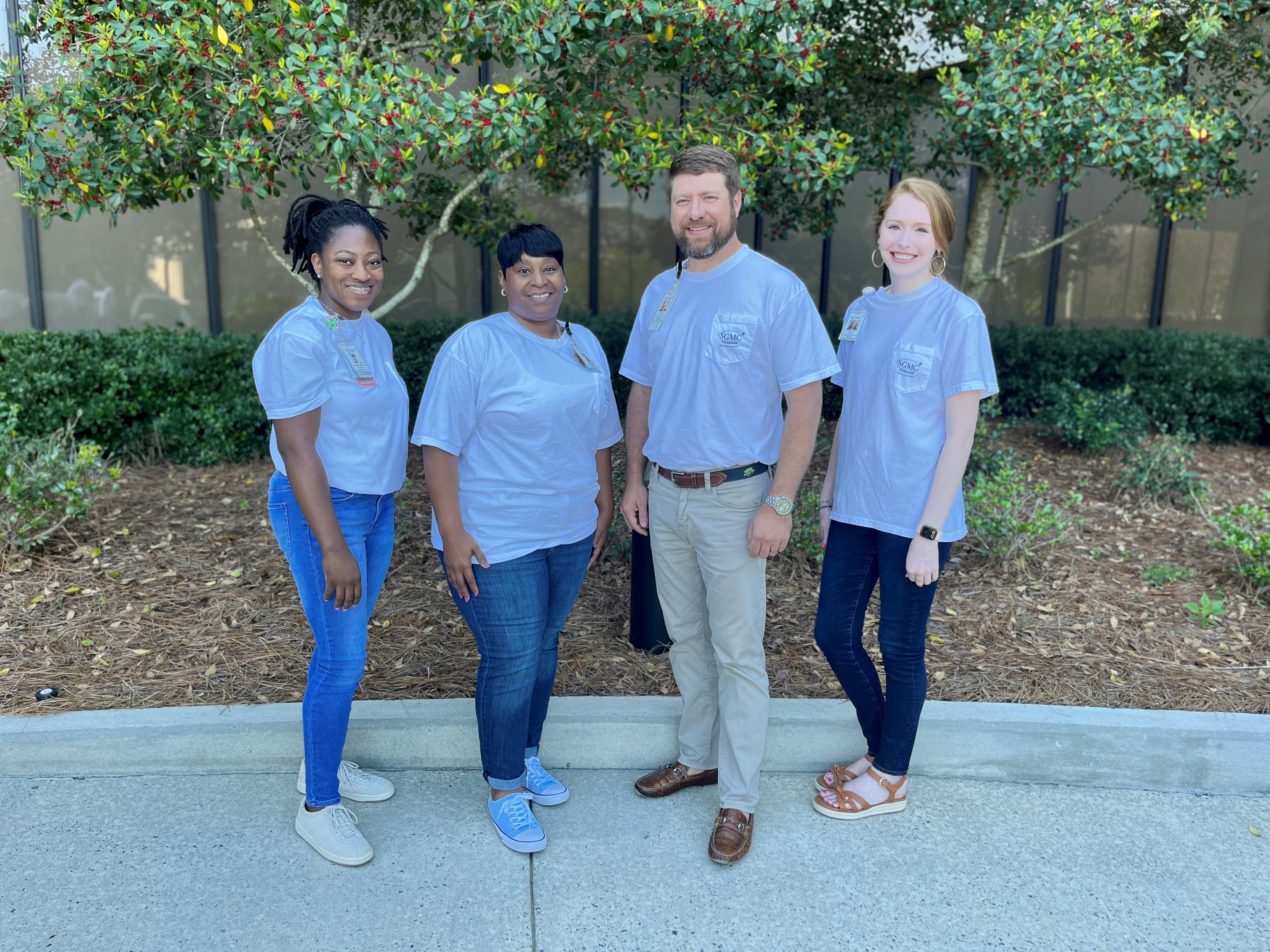 For the month of November, the Employee Giving Campaign calls upon each caring member of the SGMC family to support the people and families in need.
Do you know what SGMC has done, thanks in part to Employee Giving?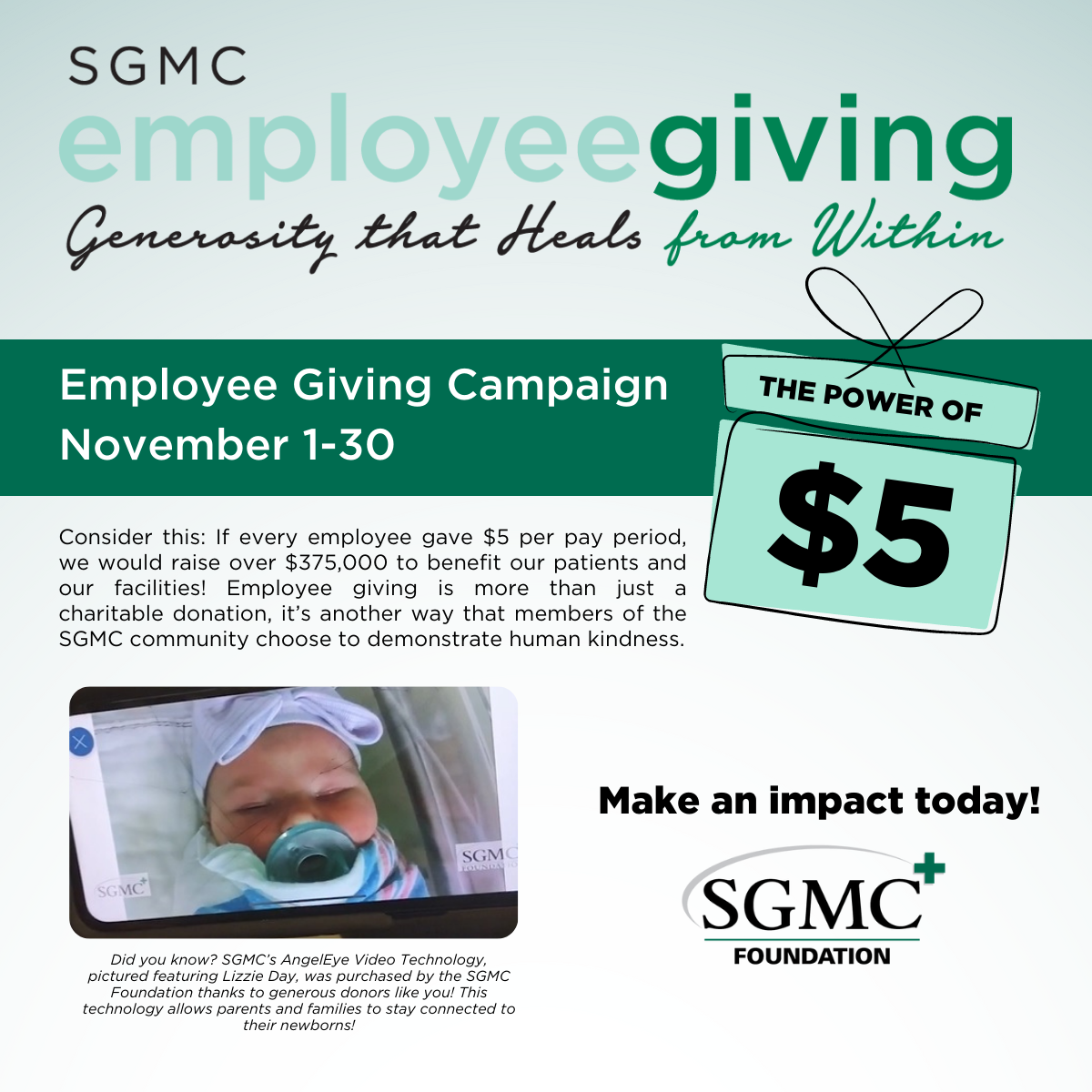 Gifts May Be Designated to specific SGMC campuses, programs, or SGMC's Care Share Fund!
Care Share Fund
The Care Share Fund provides financial support to SGMC employees in times of unusual need. The fund is also used to support the Greater Valdosta United Way to increase the positive impact they have on the communities that we serve. 50 % of the funds are used to support your colleagues in times of need and 50% of the funds are used to support our local community needs through the Greater Valdosta United Way. Care Share is supported through employee donations and is sponsored by the SGMC Foundation, in partnership with People Services.
Your gift to the Care Share Fund is another way that the SGMC community of employees can demonstrate human kindness by caring and providing for fellow colleagues facing financial hardships.
Philanthropy is vital to the SGMC's ability to maintain its role as a healthcare leader in the South Georgia region while also fulfilling its charitable mission. Our Employee Giving Program is a fundraising effort where you, our remarkable people, have a chance to show human kindness through a gift to the SGMC Foundation and have a big impact on our community we know and love.
Every employee that gives a minimum of $5 per pay period will receive a FREE employee giving t-shirt as a small token of our appreciation for your continued commitment to SGMC. Your gift, no matter what amount, will make a difference!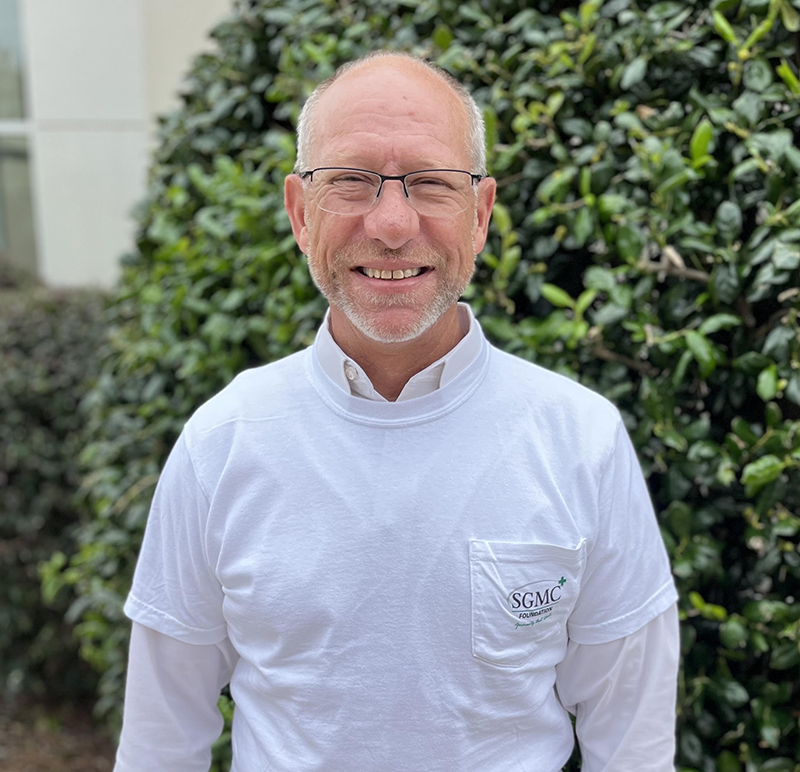 "I give through SGMC's Employee Giving program because I believe in what we do as a hospital. I believe these funds raised benefit our hospital and patient care! I am proud that I get to give to support our community and those that we serve here."
— Michael Spence, Director of Enterprise IT
How Employees Can

Start Giving
Start Giving Through Payroll Deduction
SGMC employees can start giving one of two ways.
Download the Pledge Card below, fill it out, and email it to Director of Annual Giving Hilary Willis at Hilary.Willis@sgmc.org, or fill out the form on this page and we will reach out to you with next steps.
OR
You may choose to make a one-time Donation Online.